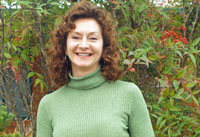 Welcome to my practice...I would like to invite you on the path to emotional health and wellness. I am a Licensed Clinical Social Worker with a passion for helping people overcome difficult life issues.

I provide confidential individual, couples, and family therapy in a supportive environment that encourages positive life change. Do you struggle with communication in your initimate relationships? Are you unhappy with aspects of your life? We will work together to develop goals for outcomes that reflect the kind of healthy relationships you would like to have. We will explore ways to increase personal growth and happiness.

I work from a strengths based perspective to help you recognize your own personal gifts. You will develop various communication techniques and learn problems solving skills to overcome life's difficult situations. Finding the right therapist is important to your success. You need to feel the therapist and the process are a good "fit" for you.

I would like the opportunity to provide you with the kind of process that will promote healthy intimate relationships and your emotional well-being. I look forward to helping you find the solutions you seek.
Cara Lucero, LCSW
Licensed Clinical Social Worker LCS19781
Phone: 916.600.0664
Fax: 916-781-6974